STEP 1: Requesting and downloading the latest Symbion Price Book.

Open up Symbion SHOP website and log in.

In the top menu go to

My Account -> Price Book Request

It will open up the following screen.

Enter the following details in the fields. In field 3 you must select the PHARMHOS format so that it will be compatible with Merlin.

1. Account = your account number

2. Email Address = your email address.

3. Format = PHARMHOS

Press Request Price Book Now button. The following confirmation message box with show up. You can now log out of Symbion SHOP.


After a while check your email and you should have an email from Symbion with the price book attachment in the following format symYYYYMMDD.txt. Note: it may take from about 15 mins or as the message above mentions allow up to one business day for email to arrive.

If you have not got one already create a folder named temp in your C:\ drive. Download and save the attachment file in to your c:\temp folder. You may have a look at the file now but make sure you do not make any modifications and ensure you close the file before you commence the next step in Merlin otherwise you there may be a file locking issue.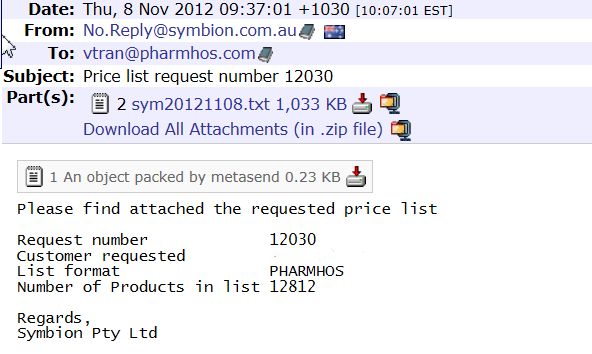 STEP 2: Loading latest Symbion Price Book into Merlin Catalogue.



Log in into Merlin

Go to

Inventory -> Maintenance Procedures -> System File Maintenance ->Purchase System Maintenance ->Vendor Catalogue

Upload

It will open up the following screen.

Enter the following in the fields

1. Hard Drive:\ Directory Path = c:\temp

2. DOS Filename <CATccyymmdd.EXT> = leave blank (delete anything that may be auto populated)

3. Vendor Filename <AAAccyymmdd.TXT> = name of latest Symbion price list you just downloaded.

eg SYM20121108.TXT

Note: Field 3 must be in Capital letters. So SYM20121108.TXT not sym20121108.txt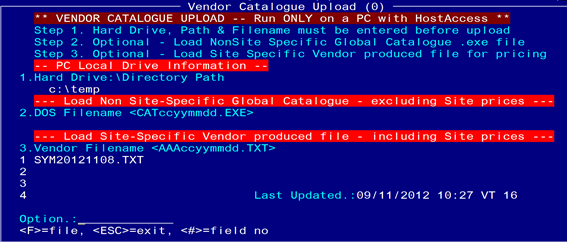 File away screen and the following prompt will appear. Select Y.


The following screen will appear indicating that the file is being loaded into Merlin. The progress bar will indicate how long you will need to wait.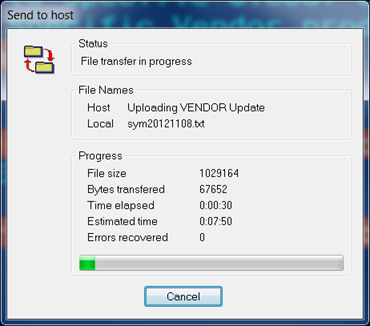 Once complete the following screen will appear. Click OK.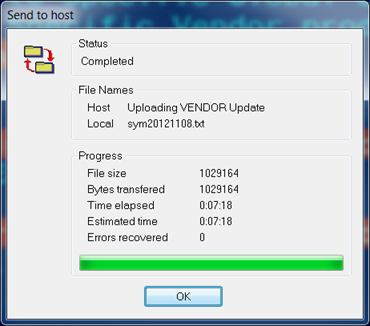 After a short while the following two messages will appear on the screen. Please wait while Merlin completes the updating and Rebuilds the Vendor index.

Once complete the date, time and your initials will be updated in the log last. Uploading of the catalogue has been successful. Escape out of the screen.


STEP 3: Updating the Symbion Catalogue into your Inventory Purchasing Data

Go to

Inventory -> Maintenance Procedures -> System File Maintenance -> Purchase System Maintenance -> Vendor Price/PartNo/GTIN Update

It will open up the following screen.

Enter the following in the fields

1. Vendor Catalogue Code = SYM

2. Store Code = PH01 (This field entry is not being used however please enter a site code to

get over this step)

3. Report or Update Mode = UPDATE

4. Report Exceptions Only = Y

5. Ignore Price Difference = N

6. Export Path = c:\temp

7. Export File Name = (Your site)_SYM_UPDATE_20121108.TXT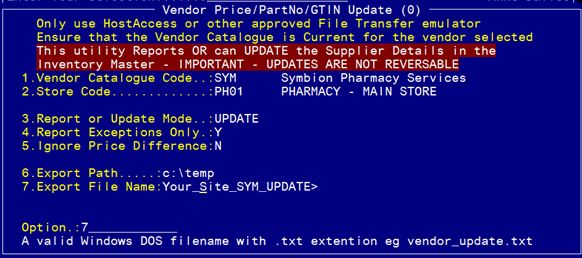 File away the screen and the updating will commence and a report will start to get export.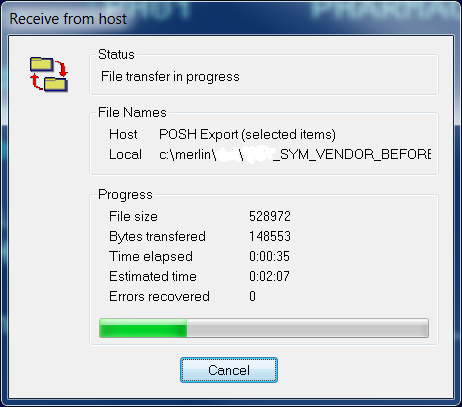 Once complete a report showing all the changes that have been made into Merlin Inventory Purchasing Data will be exported to your c:\temp folder. Looking at column Q it will tell you which products have been updated.

Column Q Miss-Match key

Update GTIN and Update Price. = GTIN and Price has been updated

Trade-Missmatch = Could not find a match between catalogue and Merlin Product because the Trade

names did not match. Product not updated

No-Cat-Item = Symbion did not have this item in their catalogue.

No GTINupdate and NoPriceUpdate = Normally follows after it has a Trade Mismatch. GTIN and Price not updated.

No-Supp-PartNo = Supplier Part number missing in Merlin Inventory Purchasing screen so no update can

be done.